Product Detail
Product Tags
Product Description
Forchlorfenuron is as a Plant Growth Regulator to promote cell division, and to improve the quality and the yield of fruits.It is widely used in agriculture on fruits to increase their size. It is as a plant growth regulator widely used in agriculture,horticulture and fruits to in crease size of fruits,e.g.kiwi fruit and table grape,to promote cell division,to improve the quality of fruits and to increase yields. It used to be widely used in agriculture,to be mixed with other pesticides,fertilizer to increase their effects.
 Applications
Forchlorfenuron is a phenylurea type cytokinin that affects the development of plant buds, accelerates cell mitosis, promotes cell growth and differentiation, prevents fruit and flower shedding, and promotes plant growth, early ripening, delays leaf senescence in later stages of crops, and increases yield. Mainly manifested in:
1. The function of promoting the growth of stems, leaves, roots, and fruits, such as when used in tobacco planting, can make the leaves plump and increase yield.
2. Promote results. It can increase the yield of fruits and vegetables such as tomatoes, eggplants, and apples.
3. Accelerate fruit thinning and defoliation. Fruit thinning can increase fruit yield, improve quality, and make the fruit size even. For cotton and soybeans, falling leaves can make harvesting easier.
4. When the concentration is high, it can be used as a herbicide.
5. Others. For example, the drying effect of cotton, sugar beets and sugarcane increase sugar content.
Using Methods
1. During the physiological fruiting period of navel oranges, apply 2 mg/L of medicinal solution to the stem dense plate.
2. Soak the young fruit of kiwifruit with 10-20 mg/L solution 20 to 25 days after its flowering.
3. Soaking the young fruits of grapes with 10-20 milligrams/liter of medicinal solution 10-15 days after flowering can increase the fruit setting rate, expand the fruit, and increase the weight of each fruit.
4. Strawberries are sprayed with 10 milligrams per liter of medicinal solution on harvested or soaked fruits, dried slightly and boxed to keep the fruits fresh and extend their storage period.
Packaging
 We provide the usual types of packages for our customers. If you need, we can also customize packages as you required.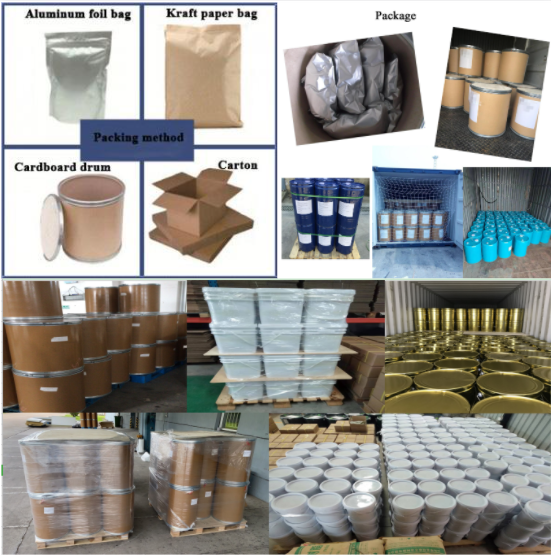 FAQs
1. Can I get samples?
Of course, we provide our customers free samples, but you need to pay the shipping cost on your own.
2. What are the payment terms?
For payment terms, we accept Bank Account, West Union, Paypal, L/C, T/T, D/P and so on.
3. How about the packaging?
We provide the usual types of packages for our customers. If you need, we can also customize packages as you required.
4. How about the shipping costs?
We provide air, sea and land transportation. According to your order, we will choose the best way to transport your goods. Shipping costs may vary because of the different shipping ways.
5. What are the delivery time?
We will arrange production immediately as soon as we accept your deposit. For small orders, the delivery time is approximately 3-7 days. For large orders, we will start production as soon as possible after the contract is signed, the appearance of the product is confirmed, the packaging is made and your approval is obtained.
6. Do you have the after-sales service?
Yes, we have. We have seven systems to guarantee your goods produce smoothly. We have Supply System, Production Management System, QC System, Packaging System, Inventory System, Inspection System Before Delivery and After-Sales System. All of them are applied to ensure your goods arriving at your destination safely. If you have any questions, please feel free to contact us.
---
Previous:
Widely Used Insecticide Deltamethrin
---
Write your message here and send it to us